Learning takeaways from the greatest high school basketball coach of all time – Coach Steve Smith – Oak Hill Academy
Every year for the past nine years I have been honored to work the Oak Hill Academy Basketball Camp. At this camp, I get to observe and learn from the greatest high school basketball coach of all time – Steve Smith.
For those of you not familiar with Coach Smith, here is his brief bio:
Coach Smith has been the head basketball coach for the Oak Hill Academy Warriors for the past 33 years.  During his time at Oak Hill, his career record is something ridiculous… I'm not sure of the exact record but I believe it is around 1,070 wins and only 70 losses! During his entire career at Oak Hill he has only lost 1 game at home and that was to Lamar Odom (Coach has a great story about that game if you ever get a chance to ask him).
Coach Smith has won an unprecedented 9 high school basketball national championships, including the 2016 Dick's Sporting Goods National Tournament Championship. He is a sure fire future hall of famer and is currently on the Naismith Hall of Fame ballot. He has coached the likes of Carmelo Anthony, Jerry Stackhouse, Kevin Durant, Rajon Rondo, Josh Smith, Brandon Jennings and Quinn Cook.  Most recently he coached 2017 NBA draftees Harry Giles, Dwayne Bacon and Sindarius Thornwell.
Coach is a lifelong learner and is always looking for new ways to motivate his players.  It is amazing to watch him year in and year out motivate and mold a new roster of players at Oak Hill.  I believe one of Coach's many strengths is his ability to create buy in and ownership from all of the new players he gets each year.
While working with Coach, I have heard him give many speeches to his players and campers.  One of my favorite topics is when he talks about what he looks for in his players.
Here are some of the top attributes Coach Smith looks for when a player wants to play for him:
Are you a good teammate?
What is your work ethic?
How do you handle coaching/constructive criticism, what type of body language do you display?
Can you shoot?
Are you willing to do the dirty work/ play defense and rebound?
My take away from what Coach looks for in potential players is this:
The amazing thing is the only actual skill Coach first looks for in a player is the ability to shoot. You do not need skill to be able to do any of the other things on the list.
Anyone can be a good teammate!
If you want something bad enough you should be willing to work hard for something! If you want to be a great basketball player you better have a great work ethic!
If a coach is going to coach you, many times he/she will provide constructive criticism to you. If you do not receive it well and display poor body language what does that say about you?
To be a great rebounder and lock down defender you need to have two things:
Desire is internal and anyone can have that.  To be ATHLETIC, you have to be blessed with good genetics and you have to buy in to strength training.  You need to get in the weight room!  The best players are the best athletes.  If you are bigger, faster and stronger than your opponents, and you have the DESIRE to play hard, rebound and defend then you will be a very good player.
If you are bigger, faster and stronger than your opponents (I.E. MORE ATHLETIC), and you have the DESIRE to be great and do everything it takes to be great, AND your also a great SHOOTER, now you are the man!  Now you're the best player on your team, in your area or in your state.
I hope all potential players buy into all aspects of being a better.  Many of these aspects are an attitude thing.  And many of these aspects involve you dedicating yourself to becoming a better athlete and that means dedicating yourself to a comprehensive strength and conditioning program!  Become a better athlete this summer and get bigger, faster and stronger!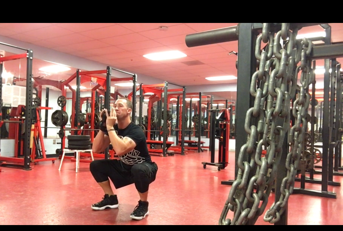 Micah Kurtz, MS, CSCS, RSCC*D, USAW, FMS, NASE, serves as Strength and Conditioning Consultant Coach to nine-time high school basketball national champion Oak Hill Academy, which won the Dick's High School National Basketball Tournament in 2016.  He is in his eighth year as Director of Strength and Conditioning at AC Flora High School., which has won 14 state championships in the past five years, including the 2016 boys' basketball state championship. Kurtz was named the National Strength and Conditioning Association (NSCA) Strength Coach of the Year in 2016. He was also named the South Carolina High School Strength and Conditioning Coach of the Year in both 2013 and 2014 and is part of the NSCA's Subject Matter Expert Committee. You can follow him on Twitter and Instagram @KurtzM3.
Bryan Meagher is currently the Associate Head Coach of the 2016 Dick's High School National Basketball Championship team Oak Hill Academy.  During his coaching career he has coached numerous NBA players that have included Kevin Durant, Rajon Rondo, Brandon Jennings, Josh Smith and Ben McLemore.  In Coach Meagher's tenure, he has been a part of five high school basketball National Championships.  You can follow him on Instagram for workout tips @Bmeagher22.