QUESTIONS EVERY PARENT SHOULD ASK THEIR CHILD'S STRENGTH COACH
There's no better breeding ground for being a success in life than sports and in the weight room.  All parent's should make sure they find a coach that believes in not only training their child to be a better athlete, but also how to be a better person.
At the youth (6-12 years old), and the high school level (13-18 years old) an athletic development program should be focused on the athlete learning the proper fundamental movement patterns and teaching the athlete the tools needed to reduce the likelihood of injury.  All coaches want the best for their athletes, but parents should still research their child's strength and conditioning coach to make sure that they are knowledgeable, specifically about how to train youth athletes.
A properly qualified strength and conditioning coach should know how to properly progress and regress young athletes.  They should be able to identify injury risks in the athlete before they become potential problems. Some unqualified coaches may not have that training or expertise.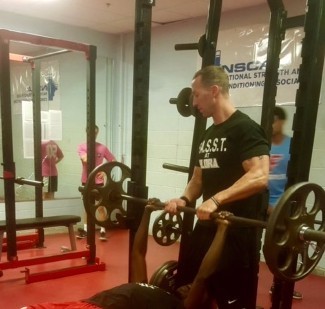 Three smart questions every parent should be asking their child's strength coach
Here are 3 questions I encourage all parents to ask to learn about their child's strength program and the coaches knowledge.
1.      Is your program age appropriate?
Programs for kids in 7th and 8th grades should be different than those designed for kids in the 11th and 12th grades. Programs should be adapted and progress as kids become older, more experienced and have better movement competency. If your child comes home and excitedly announces, "The coach has us doing the same training program as the local university", that is a red flag! College strength coaches are coaching older, more experienced and more physically mature athletes.  A program designed for a younger athlete should be differentiated to meet them where they are in terms of their athletic development.
2.      Is your training designed for overall athletic development or is it primarily sport-specific? 
To reduce injury risk, a teen's strength and conditioning coach should focus on overall athletic development and not "sport-specific strength training". For example, some inexperienced coaches may want to start training basketball players on the VertiMax because that's what they believe will make them jump higher.  However, athletes especially youth athletes,  first need to learn how to absorb force properly.  They need to learn how to bend and land properly. After that, they need to develop a strength base with age-appropriate movements, before venturing to a VertiMax machine.
3.      If your child has a private trainer and a high school strength coach: Are you willing to coordinate my child's training with their high school strength coach?
Many people think that the more training you do, the better. So, they may hire a private coach for their child as an addition to the high school strength program. I'm all for my athletes training with other coaches. But we, as coaches and professionals, need to work together. We need open communication. I want to collaborate with the private coach to explain what we're doing in my program, and what I'd like to see the private coach work on with that athlete individually.  This way the programs are unified and focus on same long-term athletic development goals. For example, a high school strength coach may want the private coach to focus on proper body positions and techniques for sprinting and change of direction. The high school strength coach may work on those skills in their program but they sometimes have up to 40 athletes training at one time. Those skills require more one-on-one attention, which a high school strength coach can not always give. Reinforcing proper sprint mechanics and change of direction progressions would be a great skill that athletes could work on with an outside coach in a one-on-one setting. What I do not want to see is an athlete having a strenuous lower body training day with their high school strength coach and then going to their private coach at night, and him/her not knowing what the athlete did during the day and again training his/her lower body. This can lead to injuries and wear down the athlete.
If you want to be the best you must dedicate yourself to strength training and athletic development.  The stronger you are, the less likely you are to sustain an injury. My strongest athletes are my most durable athletes. Many teen athletes, especially in certain sports, are at risk for not getting enough strength training.  For example lacrosse is getting more and more popular across the country. Yet lacrosse players generally don't get as much strength training as those playing football or basketball. As a result, their injury rates are exponentially higher because they are not as strong.  I encourage all to find a strength coach.  Do not be afraid to ask prospective strength coaches about their program philosophy, experience and qualifications.
Check out these 2 exercises for Improved Hip Mobility on TheAthleteMaker.com
Also be sure to subscribe to our youtube channel for highlight videos and workout tips!
youtube.com/allamericanath
The Athlete Maker Team:
Micah Kurtz, MS, CSCS*D, RSCC*D, USAW, FMS, NASE, serves as Strength and Conditioning Consultant Coach to nine-time high school basketball national champion Oak Hill Academy, which won the Dick's High School National Basketball Tournament in 2016.  He is in his eighth year as Director of Strength and Conditioning at AC Flora High School., which has won 14 state championships in the past five years, including the 2016 boys' basketball state championship. Kurtz was named the National Strength and Conditioning Association (NSCA) Strength Coach of the Year in 2016. He was also named the South Carolina High School Strength and Conditioning Coach of the Year in both 2013 and 2014 and is part of the NSCA's Subject Matter Expert Committee. You can follow him on Twitter and Instagram @KurtzM3.
Bryan Meagher is currently the Associate Head Coach of the 2016 Dick's High School National Basketball Championship team Oak Hill Academy.  During his coaching career he has coached numerous NBA players that have included Kevin Durant, Rajon Rondo, Brandon Jennings, Josh Smith and Ben McLemore.  In Coach Meagher's tenure, he has been a part of five high school basketball National Championships.  You can follow him on Instagram for workout tips @Bmeagher22.
Andy Hallett, MS is entering his 21st season as the head coach at A.C. Flora High School. Over the past 20 seasons his Falcons have compiled a 441-170 record for a 722 winning percentage. During his tenure at Flora his Falcons have won:
14 Region Championships
13 District Championships
4 AAA Lower State Championships
4 AAA Upper State Championships
6 AAA State Championships 
Luke Kurtz, JD is the Vice President of Legal Affairs for US Sugar and passionate about helping students maximize their full athletic, academic and professional potential. He played free safety and was named captain of the State University of New York- Albany football team where he won two conference titles and earned the nickname "DB9" for being a team player and aggressive hitter. He played and coached professional football for the Corinthians football club in São Paulo, Brazil. He is an active writer and has delivered speeches and presentations throughout the United States, Brazil, China and Hong Kong.